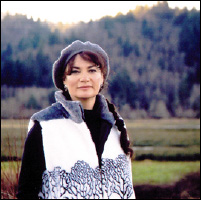 Peggy O'Neal's extraordinary and frequently monumental murals and paintings celebrate and honor: cultural diversity, the environment, and the history and traditions of Native Peoples.
Peggy has developed her artistic style of energetic realism on a grand scale and is widely recognized for public art projects, corporate commissions, murals and painted exhibits on these themes. Gifted with natural talents from an early age she later advanced her skills with five years of extensive training at the San Francisco Academy of Art.
Today, Peggy is the interpreter of visual history for many tribes in the Pacific Northwest. Each step of development for a commissioned painting by a Native American tribe, is thoroughly researched by the artist and approved by tribal cultural council. Peggy's paintings of Oregon and Northern California Native Peoples and their traditions serve as a reminder of a rich cultural history, that has been kept alive and now is experiencing a rebirth.
Tribal collectors include: Coquille Indian Tribe, Confederated Tribes of the Grand Ronde, and the Confederated Tribes of the Siletz Indians. Other collectors are US Bureau of Land Management, US Forest Service, Menasha Corporation, Salem Public Library, Salem, Oregon and North Bend School District North Bend, Oregon.
The artist lives on the Oregon coast, where she keeps an active schedule of commissioned work and also designs interpretive exhibits, murals and dioramas for museums, permanent exhibits and interpretive centers.
Peggy O'Neal's company, WOW arts & exhibits, Inc. is an award winning exhibition design/build company with studios in downtown North Bend, Oregon.
WOW arts & exhibits provides a wide range of services that foster innovation through collaboration to develop original artwork. The company has undertaken complex projects in the design and creation of site specific artwork, interpretive exhibits, and research and fabrication of scenic creations. The team works closely with scholars, historians, scientists, architects, engineers, manufacturers and design specialists to develop new visions that address a client's needs and ensures that creativity becomes tangible.
Current and recent projects include:
Dioramas and scenic creators National Historic California Trail BLM Interpretive Center Elko, Nevada - HB Stubbs, Lead Contractor
Scenic creators Sam Noble Museum of Natural History University of Oklahoma - Formations Exhibits, Lead Contractor/Designers.
Designers/creators of artwork, dioramas, and interpretive information Mill Hotel and Casino North Bend, Oregon.
Designers/creators of diorama for the North Bend Visitor Center. A project of OCEAN and the City of North Bend.
Fabrication of exhibits for San Diego Zoo. Designed by 1+2 Inc. - USFW
Diorama and scenic creators USFW Tualatan Interpretive Center, Tualatan Oregon, PPI Designers, HB Stubbs Contractor.
Completion of concept, design and fabrication - "Pathways To Discovery", an interpretive natural history exhibition for younger audiences and those who are young at heart. The exhibit is composed of sensory environments for the Umpqua Discovery Center, Reedsport, Oregon.
Conceptual Design Oregon – "Where Past is Present", a permanent exhibition for the University of Oregon Museum of Natural History, that presents the extensive collections of the Museum in a stimulating series of sensory environments. Eugene, Oregon.
Concept, design, and fabrication of "Tidewaters and Time" for the Umpqua Discovery Center in Reedsport, Oregon. The exhibition was awarded the Frank Branch Riley Tourism Award. The award is given by the Oregon Historical Society and the Oregon Tourism Council for the outstanding project that brings together Oregon history and tourism.
Designers/creators of site specific artwork and interpretive exhibits for the Confederated Tribes of Siletz Indians Administration Building.
Designers/creators of site specific murals for Chinook Winds Casino.
Lead designers for the Coquille Indian Tribe "Community Plank House Project".
Designers/fabricators of Dunes National Recreation Area USFS interpretive center exhibits.
Designers/fabricators of Legacy exhibits for the Coquille Indian Tribe.